Technical Specifications:
Date: 2013
Dimensions: —
Materials/Technique: Polyester Print, electronic, mirror, glass and wood.
Weight: —
The Dogmatic Lullaby series invites us to reflect on our own fragility throughout time, through a series of life passages initiating a timeless loop.
This series is composed by 6 electronic controlled mirrors that make the spectator feel part of the narrative. These electronic mirrors create a more direct dialogue, thanks to the fusion of the spectator's faces with the main protagonists.
Each mirror, apparently common, works through a microcontroller. When the spectator approaches the mirror his or her face is reflected in it together with the image of a woman who delights us with a small fragment of life, which allows us to discern her intimate knowledge and life experience.
The series consist only of women, as carriers of life and wisdom, transmitting it from generation to generation just as a lullaby.
The baroque framing of the art works emphasizes the time perspective.
The works were made at RaumArs A-i-R in Finland.
Mirja Johanna Lehtola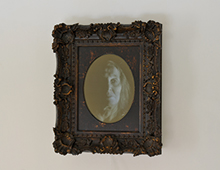 Technical Specifications:
Year: 2013
Size: 50 x 60 x 14,5 cm
Materials and Technic: Polyester Print, electronic, mirror, glass and wood.
Weight: 8,5 kg
Kaarina Elisabet Suominen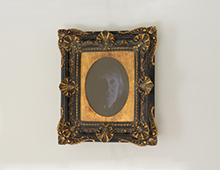 Technical Specifications:
Year: 2013
Size: 56 x 46 x 12 cm
Materials and Technic: Polyester Print, electronic, mirror, glass and wood.
Weight: 8 kg
Irja Tuomikoski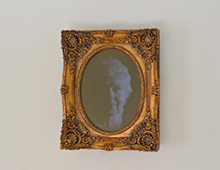 Technical Specifications:
Year: 2013
Size: 55 x 45 x 12 cm
Materials and Technic: Polyester Print, electronic, mirror, glass and wood.
Weight: 8,5 kg
Anja Irmeli Rasila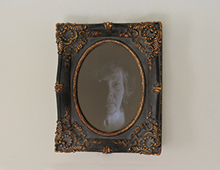 Technical Specifications:
Year: 2013
Size: 55 x 45 x 12 cm
Materials and Technic: Polyester Print, electronic, mirror, glass and wood.
Weight: 8,5 kg
Ritva Tellervo Parjanen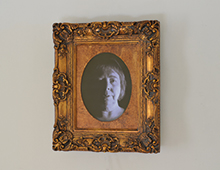 Technical Specifications:
Year: 2013
Size: 59 x 49 x 12 cm
Materials and Technic: Polyester Print, electronic, mirror, glass and wood.
Weight: 8 kg